Try the leading asset tracking software built for events.
Manage catering, exhibits, and staging equipment all under one system!
An intuitive interface to streamline your event equipment management
On-the-cloud asset tracking enabling immediate data updates
Features designed specifically to speed up those stressful pre-event days
Boost ROI by eliminating equipment loss during events
A dedicated support staff to answer all your workflow questions
We're trusted by the best in Event Management




Feature in Focus:
The Cart Module
Each event can have a unique cart of its own. You can quickly search for items and put in as much detail as you'd like using custom fields.
Reserve carts for future use, clone them for convenience, and link separate carts together for related events!
You can add documents and images to each cart, and also generate 'receipts' for further documentation.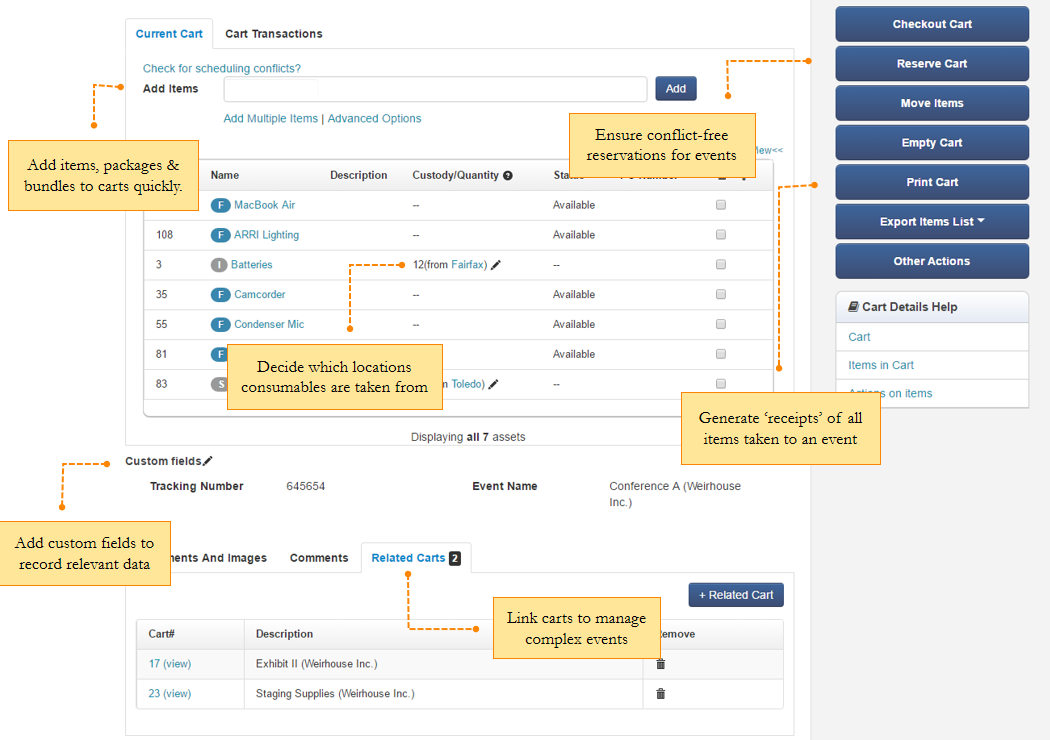 EZOfficeInventory has been a godsent with regards to establishing an effective and efficient inventory tracking system. In addition to its ease of use, I have also been impressed by the willingness and support of the people."
MICHAEL CASSELLI - ANTIOCH COLLEGE
Try out the best in asset tracking!
Carts
Reuse carts for similar events, or link them together for more complex events
Reservations
Ensure conflict-free bookings for event items each time
Reports
Get in-depth data broken down by location, group, or event
Mobile Apps
Access and update information right from an event site
Access Control
Setup distinct access tiers across event locations or items for all your employees
Customizability
Customize alerts, fields and displays for fully-tailored event management
Bundles and
Packages
Create specialized kits for recurring events for added convenience
Services and
Maintenance
Pre-plan maintenance and triage items to ensure your events go off without a hitch
Barcode and
QR Code Scanning
Check out entire packing lists for events in seconds