Run the world's best asset tracking software
Used by thousands of companies, including












Stay on top of asset tracking from anywhere, using any device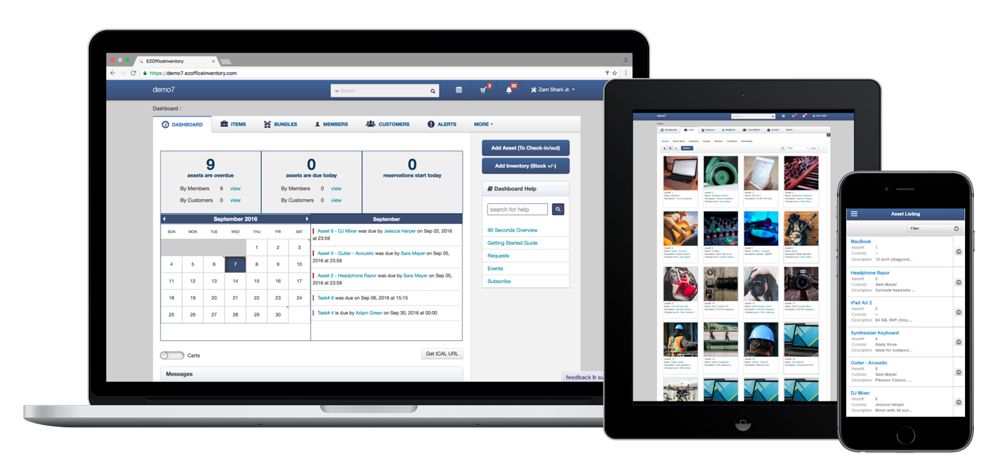 track_changes
Track the complete Asset Life Cycle
A complete asset management solution that comes with a comprehensive log for each asset - starting from procurement all the way through to retirement.
find_replace
Simplify operations that involve equipment
Improve equipment inventory management by simplifying your workflow. Know what's needed, by whom, and when it's due back.
Tag your items with QR Codes or Barcodes
Design and print professional labels with QR Codes or Barcodes. Use the mobile app or handheld scanners to make inventory management a breeze.
business
Manage assets across locations and teams
Whether your locations are spread out across states or departments, EZ has you covered. Also comes with Access Control.
trending_up
Use insights to increase productivity
Analyze reports to reduce costs and increase productivity. Availability assessments helps identify which items are a bottleneck to increasing efficiency.
Empower everyone at your organizations
Asset tracking software "approach(ing) Asset Management untraditionally through a delegation model, in which the responsibility of inventory tracking is shared" TechCrunch
Ready to transform Asset Tracking at your company?
For industries just like yours-best practices baked right in
Need Help?
Our Knowledge Base is great aid for all questions about asset tracking software. You can also use Google Search e.g. Printing Labels in EZOfficeInventory.

Our responsive support team is available at support@ezofficeinventory.com for any further questions.
Stay in Touch
We are always getting better, with new features and enhancements every month.

Stay up to date by following us on social media and visiting our asset management blog created with you in mind.
Case Studies
Collaborating with thousands of companies across the globe has helped us collect valuable insights, enabling us to refine the best practices in asset tracking.

We'd like to share them, to help everyone adopt better equipment and inventory management practices. Read More
Sign Up for a trial to see it yourself
No Credit Card required.
Help from support every step of the way.
Decide the next step after 15 days.