Run the world's best asset tracking software
Used by thousands of companies, including












Stay on top of asset tracking from anywhere, using any device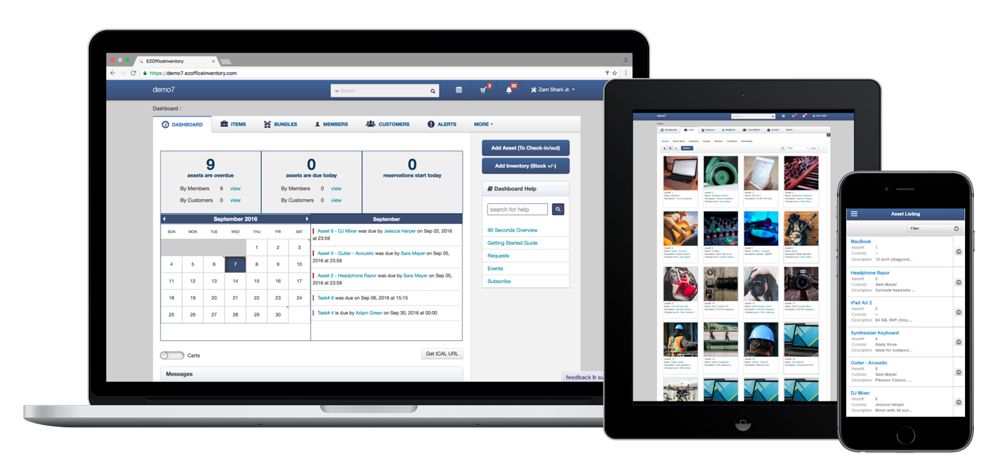 track_changes
Track the complete Asset Life Cycle
A complete asset management solution that comes with a comprehensive log for each asset - starting from procurement all the way through to retirement.
find_replace
Simplify operations that involve equipment
Improve equipment inventory management by simplifying your workflow. Know what's needed, by whom, and when it's due back.
Tag your items with RFID, QR Codes and Barcodes
Use external RFID readers to scan items and take actions on them using our app. You can also design and print professional QR Codes and Barcodes, and scan them with our app.
business
Manage assets across locations and teams
Whether your locations are spread out across states or departments, EZ has you covered. Also comes with Access Control.
trending_up
Use insights to increase productivity
Analyze reports to reduce costs and increase productivity. Availability assessments helps identify which items are a bottleneck to increasing efficiency.
Empower everyone at your organizations
Asset inventory software "approach(ing) Asset Management untraditionally through a delegation model, in which the responsibility of inventory tracking is shared" TechCrunch
Ready to transform Asset Tracking at your company?
Why Your Business Needs An Asset Tracking Software
Today, around $1.1 trillion worth of capital is tied up in business assets and inventory. Managing these items can be expensive, especially if you're relying on traditional methods of stock-keeping and asset management. Turning a blind eye towards your business assets not only compounds overheads, but it can also make your employees' jobs that much harder and drop their productivity. Imagine going about a task without the right tools or broken down equipment!

Rummaging around for replacements, or trying to locate someone from maintenance just to get your job done just doesn't seem worth it. It inflates costs, lowers workplace morale, and puts unnecessary chinks in your workflows. In addition, you might face the following problems in the absence of a robust equipment management solution:
Inaccurate data on asset availability and usage:

Finding data required to improve workflows can often be difficult for businesses. With no reports or data insights to hold employees accountable or refine business processes, the overheads relating to business equipment can rise sharply.

Low asset productivity and inefficient maintenance practices:

Every minute an employee spends looking for tools is squandered employee potential. Add to this the overlooked calibration and maintenance schedules which increase equipment downtime, and you've got yourself a business asset nightmare.

A lack of centralization in asset management activities:

Often, businesses have to rely on different platforms to manage various aspects of an asset's life cycle - for example, to create purchase orders, draft service tickets, scan asset labels, or to generate a work order. This splintering can cost your business a great deal of time and money.
To avoid these issues, asset management needs to be at the forefront of all business management plans. A well organized business is much more likely to be more productive, and this goes for everyone - from small businesses to huge enterprises!
EZOfficeInventory: Asset Tracking, Simplified
Equipment management can be a huge operation - starting from procurement and going through all the major phases of an asset's life cycle, including maintenance activities, reservations by staff, inclusion in work orders, depreciation calculations. This enables you to manage your items from requisitions to retirement. A robust equipment tracking software doesn't just track your equipment, but also takes care of other aspects of asset usage, including reports, vendor histories, user management, audit trails, and so on.

EZOfficeInventory is created with best practices in mind. Over many years of collaborating with our customers, we've introduced a system that makes asset management cost-effective, collaborative, and convenient! So why are we the leading asset tracking software around?
We offer comprehensive data management. With actionable insights and customizable reports, you can have access to all kinds of availability and usage data, as well as countless reports and graphs created to guide you in making the best business decisions possible.

Our RFID, Barcode, and QR Code scans enable you to track equipment across different locations and employees with ease. Not only do we integrate with third party label scanners, we also come bundled with a free mobile app that scans RFID tags, Barcodes and QR Codes in no time. In addition, our unlimited location-nesting makes it possible to track items down to the last cabinet or shelf.

EZOfficeInventory's fully-featured CMMS module allows you to plan maintenance activities well in advance, create service tickets, set maintenance to repeat at regular intervals, and more. You can even prioritize maintenance tasks and flag assets up for maintenance right when they're checked back in. Our comprehensive service vendor management makes managing costs extremely easy.

We're an end-to-end asset management solution, enabling you to draw up purchase orders, work orders, service tasks, asset retirement plans, and juggle all that with in-depth integrations with popular productivity-enabling apps such a Salesforce, Zendesk, Dropbox, ADFS, and more!
Need Help?
Our Knowledge Base is great aid for all questions about asset tracking system. You can also use Google Search e.g. Printing Labels in EZOfficeInventory.

Our responsive support team is available at support@ezofficeinventory.com for any further questions.
Stay in Touch
We are always getting better, with new features and enhancements every month.

Stay up to date by following us on social media and visiting our asset management blog created with you in mind.
Case Studies
Collaborating with thousands of companies across the globe has helped us collect valuable insights, enabling us to refine the best practices in asset tracking.

We'd like to share them, to help everyone adopt better equipment and inventory management practices. Read More
Sign Up for a trial to see it yourself
No Credit Card required.
Help from support every step of the way.
Decide the next step after 15 days.