The leading asset tracking software for Non Profits
Keep donors happy through efficient equipment management!
An intuitive interface to streamline inventory management
On-the-cloud asset management enabling updates from the field
Lower risks by getting actionable insights from reports and analytics
Maintenance modules ensure donor money is used efficiently!
A dedicated support staff to answer all your workflow questions
We're trusted by the most worthy Non Profit organizations





Want to increase accountability for your Non Profit?
Improve efficiency and raise ROIs for your non profit assets.
Mobile scans deter theft and bolster accountability.
Use in-depth analytics to draft donor reports.
The reservations module provides error-free bookings.
Access control helps manage data visibility for volunteers.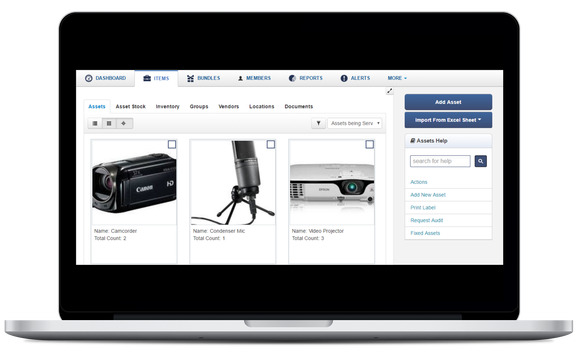 "Being able to check assets in/out on the fly by scanning our QR Code assets with the mobile app makes staying current with asset inventory easy. We've been more than impressed with the responsiveness of the support team. Thank you for your commitment to the continued development of EZOfficeInventory!"
KACHI WEIRICH - ANSWERS.COM
Here's why we're the best in
Non Profit equipment management!
Carts
Reuse carts for similar non profit events, or link carts for convenience!
Reservations
Ensure your volunteers have exactly what they need with error-free bookings
Mobile Apps
Our Android/iOS apps make on-location updates easier than ever!
Reports
Get in-depth data about non profit equipment to optimize usage
Access Control
Control volunteer access across non profit events and locations
Customizability
Customize alerts for fully-tailored non profit equipment management
Services and
Maintenance
Service tickets improve equipment productivity, keeping donors happy
Barcode and
QR Code Scanning
Make managing non profit inventory a breeze by mass-scanning items
Bundles and
Packages
Create specialized non profit kits to track assets smoothly